NEWS and EVENTS up to the passing of Johannes Paulus II
Pope John Paul II is no more...


With 279 out of 296 votes the Greek Parliament has elected
Karolos Papoulias as the new President of the Hellenic Republic.


Mahmoud Abbas and Ariel Sharon, our eyes, ears and hearts
are all turned to Sharm Al-Sheikh tomorrow...


Tens of thousands of people in south-east Asia die and scores
are left homeless by a strong earthquake and subsequent tsunamis
that hit a wide geographic region.



Yasser Arafat is no more...



350 Dead, 160 Children: Chechen rebels, how, exactly, had they contributed to the
suffering of the Chechen people?


Not only has President Putin failed miserably to resolve the single
largest post-Communist era Russian crisis, but he has also been
consistently failing in commanding effectively small reaction forces.
It is time to pass the reigns on to someone with elementary capabilities.


Congress MPs have picked former finance minister Manmohan Singh as India's
next prime minister after Sonia Gandhi turned down the post.


Hamas chief killed in air strike
Israeli missiles kill Ahmed Yassin, bringing crowds of angry Palestinians
onto Gaza's streets vowing revenge. ISR AELIS and PAL ESTINIANS, it
is time for PEACE and PROSPERITY; not for HATRED and REVENGE...



John Kerry is ahead for the democratic nomination
for the 2004 presidential elections .


George Papandreou is the new PA.SO.K. leader.


We lost Wim Blok...

on Sunday, the 30th day of November of 2003.
Georgian's peaceful revolution brought down the government
of Eduard Shevardnadze. Nino Budzhanadze is assuming interim
leadership until National Presidential elections are held. Mikhail
Saakashvili is the main opposition leader and the most likely to
succeed Shevardnadze.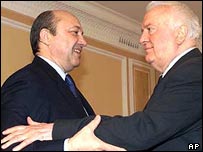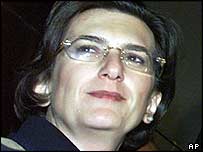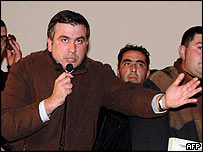 The United States is to set Iraq's Governing Council a six month
deadline to come up with a constitution that would lead to elections
and a new government next year.
US Secretary of State Colin Powell told the New York Times the deadline would be
difficult but it was necessary to get the interim Iraqi leadership moving. Truth of
the matter is that, with US elections approaching, the situation in Baghdad worsening
and President Bush's popularity plumetting, only a withdrawal from Iraq or a new
invasion would possibly appease the irritated US voters.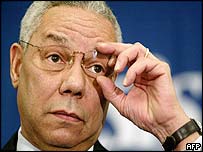 Palestinians keep perpetuating the cycle of terror in the middle
east despite renewed efforts for a peaceful settlement...


More than 10 years after the fall of the Berlin wall, the Nicosia wall
seems to be crashing down as well! Way to go Cyprus and way to go
old Europe...

Baghdad fell and Tikrit followed suit. Iraq now is under coalition control.
The War in Iraq has ended but peace may again be the toughest challenge...


The space shuttle Columbia has broken up on its way to the Kennedy space center.
All seven crew on board are presumed dead.



Sweeping reforms are expected in the Chinese Communist hierarchy
with Jiang Zemin giving the reins to Hu Jintao.

The left-wing candidate in Brazil's presidential election , Luiz Inacio Lula da Silva - known as Lula -
has won a convincing victory in Sunday's run-off.










Chancellor Gerhard Schroeder's Red-Green coalition has won the German general elections with a razor-thin majority, after a night of drama which earlier saw his conservative opponent claiming victory.

Preliminary official results give Mr Schroeder's Social Democrats (SPD) and the Greens 47.1% of the vote - 306 seats in the parliament or Bundestag.

The conservative opposition of CDU/CSU led by Edmund Stoiber in alliance with the liberal Free Democrats won 45.9%, securing 295 seats. The conservative opposition of CDU/CSU led by Edmund Stoiber in alliance with the liberal Free Democrats won 45.9%, securing 295 seats.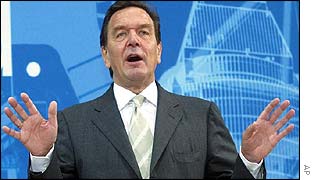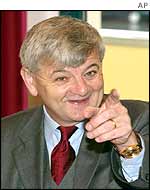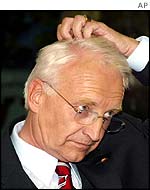 Swedish Prime Minister Goeran Persson has been re-elected for a new four-year term, as voters
backed his pledge to protect the country's welfare system. With all but the postal ballots counted,
Mr Persson's Social Democrats and his left-wing allies have won an absolute majority, ending a
string of victories across Europe for centre-right parties.


Nelson Mandela visited Greece to support the idea of Olympic Seasefire
during the Athens 2004 and all subsequent Olympic games.
Here he is with Foreign Minister George Papandreou and with our Mikis Theodorakis:

Jean-Pierre Raffarin is the new interim French prime minister after Jacques Chirac wins a landslide second
round victory in French presidential elections and Lionel Jospin resigns the post.

Election presidentielle en France:
La gauche est donc éliminée à l'issue du premier tour, un cas de figure jamais vu depuis l'élection Pompidou-Poher en 1969.

A plane crashed into Pirelli's skycraper in Milano.

Athenians demonstrated their support for the Palestinian cause and their
condemnation of the continuing atrocities and crimes against humanity
and the ongoing ethnic cleansing in the occupied Palestinian territories.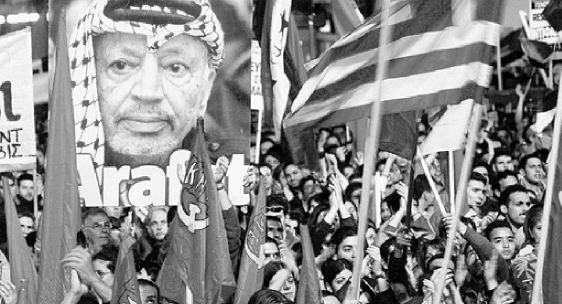 Yugoslavia is no more. A deal between Serbia and Montenegro establishes
the loose Union of States: Serbia and Montenegro .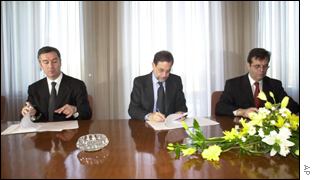 President Mohammad Khatami visited Greece. Here he is on the Acropolis!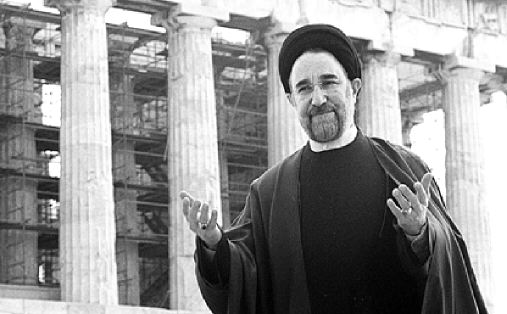 President George Bush receives his first Euro coins from prime minister
Kostas Simitis.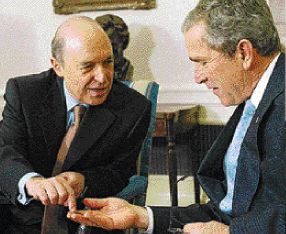 It has snowed heavily in Athens for the first time since 1987.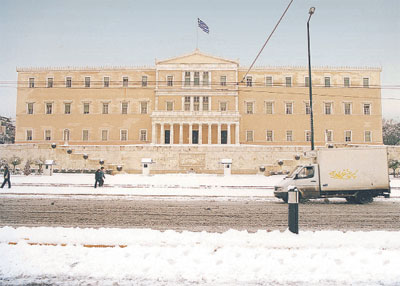 Afghan groups meeting in Bonn have signed a two-stage deal aimed at setting up a transitional government.


The U.N. and Secretary General Coffi Annan were awarded the 2001 Nobel Peace Prize . At the same time
the war against terrorism in Afghanistan is at its peak.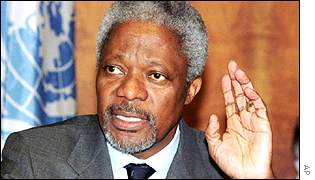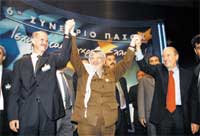 America strikes back .
Frantisek Matus gave two excellent talks while visiting Iowa State.

Richard Varga gave a talk at C.W.R.U.'s colloquium.

Alexander Koldobsky was on the Case Western Reserve campus.




Alexander Abian passed away July the 24th 1999.

Another war is over and peace does not look too promising...

The grandeur of the European football versus the misery of the South American: France smashed Brazil 3-0 in an unforgettable evening at Saint-Denis.

The World Cup is under way...

This very nicely written book is strongly recommended.




We all met in Baltimore, January 7-10. Saunders Mac Lane was there...