Athletic Events 2006-2010
(Back to Main)

Another positive sign from Herr Otto towards renewal of his leadership of the
National side.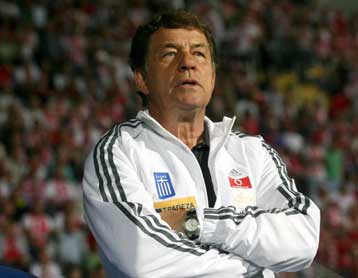 Very good news, it seems, from EPO's side. Herr Otto and Frau Beate have to
make up their minds so that he may continue his invaluable contributions to
the Greek footballing developments and culture.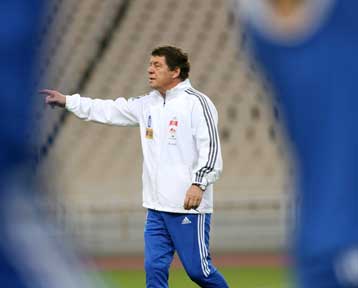 Croatians (and other European footballing powers) wish that Otto will not be at
the helm after the 2010 World Cup. Despite understanding their wishful thinking
in vew of the 2012 Euro qualifying tournament, they are boldly mistaken. The
Great Fox of the north is going to direct the Greek effort for qualification, no
matter what the outcome of the 2010 World Cup is for the Greek national side...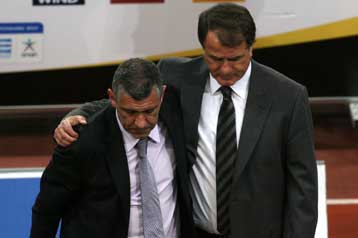 EURO 2012 Poland and Ukraine.
The draw has taken place. Greece is to face Croatia, Israel, Latvia, Georgia and Malta
in Group F, whereas Italia is facing Serbia, Northern Ireland, Slovenia, Estonia and the
Faroe Islands in Group C. Here is a special page!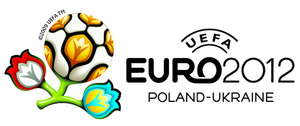 Yesterday, after another completely disappointing performance, showing a lack of
perseverence, lack of tactics and lack of any kind of organization and inspiration,
Juve, after going 0-1 up, was finally eliminated from the Italian cup. This, at least,
resulted in a wake-up call - literally; he was deeply asleep; maybe hibernating due
to the extreme cold - to the director Bettega, who decided to replace Ciro Ferrara
with Alberto Zaccheroni. Now there are new rumors going around that Bettega is
going to recruit Benitez from Liverpool. Why? Is he jealous of the "excellent work"
that he has been doing lately with the British club? One of the legendary Italian
coaches, with their vast experience and huge successes should be brought in and
given a free hand to rebuild Juve from thes ashes of the Bettega-Ferrara era...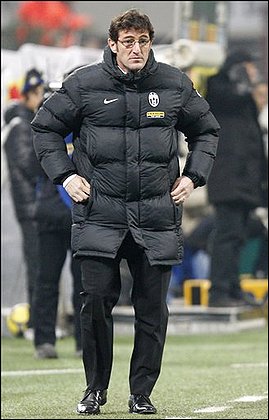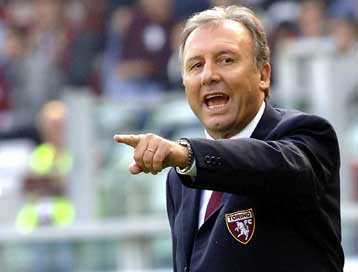 Is there anyone listening out in Torino? Does the team need to enter the relegation
zone for someone to wake up and realize that there is something terribly wrong this
season and take action? What does it take for Bettega to lose faith in Ciro Ferrara?
The most stupid thing after an unfortunate decision is not to have the courage to
acknowledge it and try to fix it...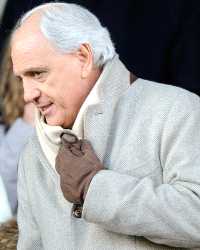 Get Well Otto! We need you stronger than before!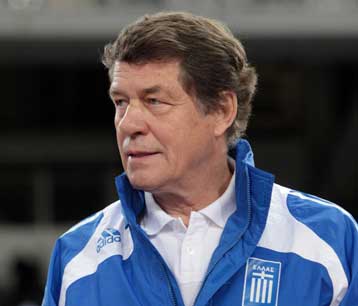 By changing the coach, one cannot guarantee wins. Changing Zico at the helm of Olympiacos
is a premature move because the coach did not have the time to work and instill his own type
of game in the team. Kokkalis, once more, shows his lack of patience and, honestly, his weakness
when it comes to pleasing hoards of questionable fans. It is a pity that, in Greece, football has
become an enterprise for obnoxious people vexing their frustrations. Can anyone imagine tons
os shareholders demonstrating outside the offices and lynching the employees of their companies
every time the price of the share dropped? And yet and still that is exactly what is happening,
unfortunately, nowadays with football clubs in Greece...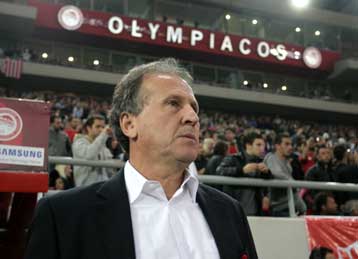 It turns out that Kozonis fits the stereotypical image of a 1950's Chicagoan Greek that
is out of touch with contemporary realities: A Greek "uncle" that has made a buck in
the new world and treats his compatriots in a patronizing and condescending way, not
realizing that times are changing, not only in the USA, but also in the old continent, and
that people are open-minded and educated and, in many instances, exhibit entrepreneu-
ial spirit as robust and as enthusiastic as any on this side of the Atlantic.

AEK needs new




blood; AEK does not need people stuck in the 1950s

. These methods have been tried and
failed. At least, this Kozonis realizes as well...

Although I am not a businessman, it is my opinion that Kozonis is not to be trusted. It is very
unamerican and very improper in the business world to have someone demand through a public
interview from the shareholders of a company in which that person wants to invest to be granted
management of the company. Even with companies that are deep in debt, serious behavior would
entail negotiations and eventual agreement on terms for buying the debt and start new investements.
I am afraid that even by putting any faith and trust in this "businessman", AEK fans are setting
themselves up for new disappointments in the not-very-distant future...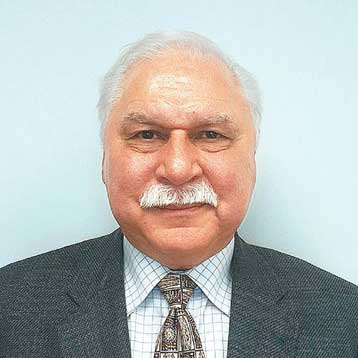 A nice treat on the way to South Africa. Zico scores against New Zealand in España 1982.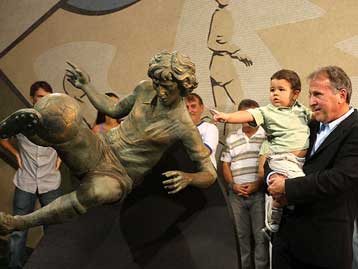 How is it possible for a discredited athlete, that has repeatedly broken antidoping rules and
regulations, instead of being ashamed of her actions and apologizing to the Olympic Committee
and the general public, to be so shameless as to threathen legal action against a fully justifiable
decision?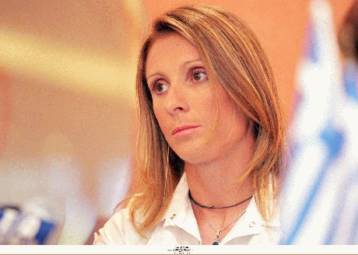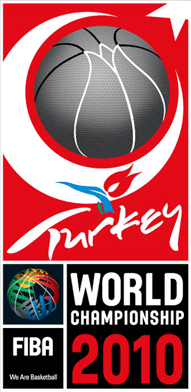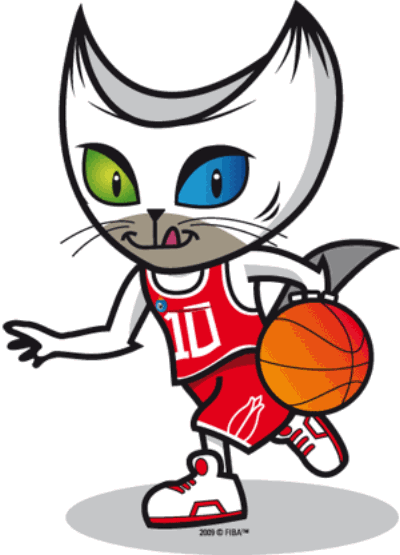 One more time: Even though changing a coach should not be done hastily and does not
constitute a panacea over a team's troubles, I think there is enough evidence gathered that
Ciro Ferrara is not experienced enough to rise to the circumstances surrounding a club
with as big aspirations as Juventus. Today's defeat to Bari makes changing a coach an
unfortunate necessity in Torino.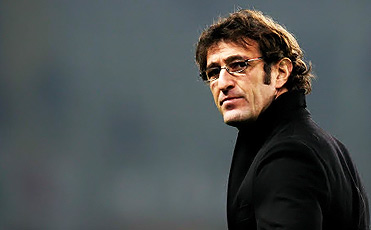 Why is it so difficult for Greek businessmen to realize that being a shareholder carries a great
responsibility? Applying a drastic change or making a significant decision requires the input of
shareholders. Moreover, discussions and criticisms about a decision cannot take place by shooting
accusations and cursing through the press. These must happen in private meetings, where the opinions
of all people responsible have to be heard. But, unfortunately, this is the culture and the education of
the people that Greeks are expecting to advance the quality of the game...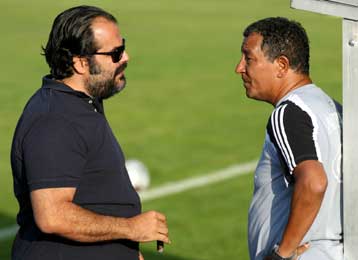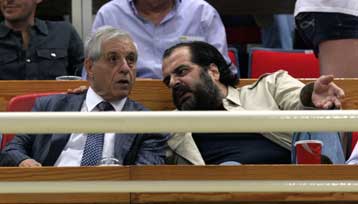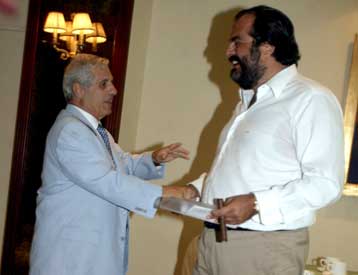 Although I have the greatest respect for Ciro Ferrara as an ex-Juve defender, his appointment
at the helm of the club had been premature based on his prior (in)experience and has proven
disastrous. In a game like today's battle with Bayern, after going up a goal and needing either
a win or a tie and while having at your disposal defenders like Cannavaro, Grosso, Chiellini,...
it is unimaginable ending up losing by 1-4. A change is needed urgently.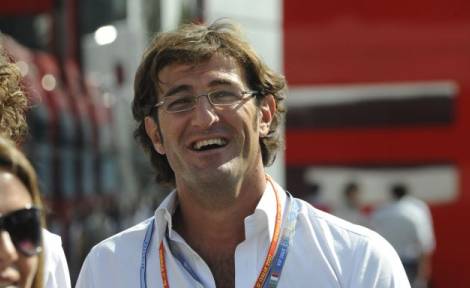 At last, the Olympic Committee did something right. They stripped Marion Jones from
her gold medal in the 100m Sydney Olympics while, at the same time, not awarding it
to Katerina Thanou. Tzekoses all over the world rejoice. That is the state you have led
your athletes into... Will you dare bulls**t Greeks by public interviews again?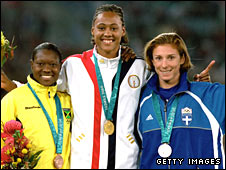 Greek misery in its zenith. The Greek-American (but clearly Greek in mentality) Bob
Kozonis and the Greek (and obviously Greek in mentality) Nick Notias are fighting
like kids (after negotiating like "businessmen" for a couple of months) with the only
and ultimate victim the historical football club AEK. And both proclaiming at the
same time their undying love for the club. Greece and Greek mentality at their apex.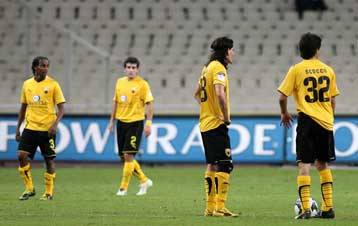 If it is true, as alleged, that Gagatsis had concealed several dozens of thousands of
Euros worth in bank accounts and stocks, not only should there be a full investigation
of him and his reasons for not having been truthful, but also a full investigation of the
origins of this property and how that had influenced the transparency and fairness of
football gaming in the seasons 2005-2008. Many Greek fans would not be surprised at
all if there was interference in refereeing issues, e.g., as a result of lavish payments...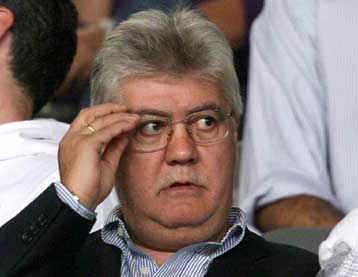 In the 15th day of the 2009-2010 Campionato season, Juve smashed Inter 2-1 at home
and is now only 4 points behind the defending champions. Highlights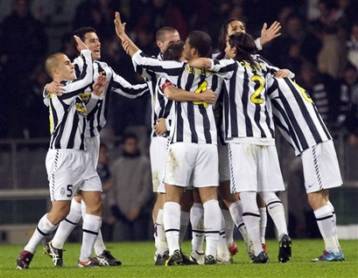 DRAW in South Africa! World Cup 2010


Never too early for the next World Cup. A page for Greece and Italy.
Good luck to both!

There is something wrong with FIFA. By denying the use of technology in assisting
referees, it has caused situations like the France-Ireland fiasco. By refusing to allow
a replay and by not considering an exemplary punishment of Henry, they reward
unfair play and dirty gaming. And finally, they dare consider allowing an extra team
in the already fattened world-cup schedule to clean their own s**t on the backs of
football fans the world over. Blatter, get serious or else let someone else that is more
serious do the job.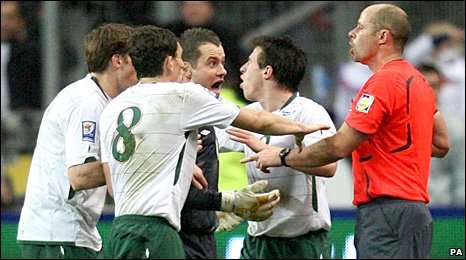 Let us stop this nonsense about "staying or going" after each and every game.


Rehhagel and Topalidis are staying, regardless of individual results.

They have
proven beyond the shadow of any doubt that they can lead Greece in the long
term and we are expecting Pilavios to be smart enough to ensure that.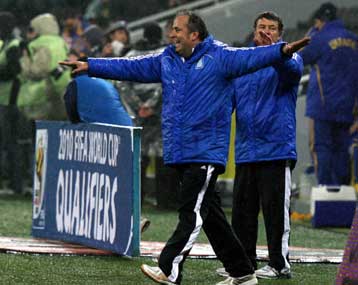 It just became known that EPO intends to propose to Otto an extension of his contract
for after the 2010 South Africa World cup with an annual salary of around 1M euros.
Rehhagel must stay. Greeks are difficult people to deal with. Once a good match is in
place, that is able to deal with the difficulties so successfully, it would be a mistake to
change. Also, Otto has to resist asking for additional renumeration. In the current tough
financial circumstances, his current salary is an appropriate amount, that seems to work
well for both parties and that the Greek public can live with, given his enormous critical
contributions in advancing everything football in our football loving nation.

The distinguished coaching duo.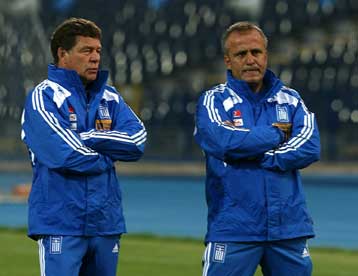 I thnk it very demeaning to the football fans all over the world for any Beckham to have the
nerve to produce excuses for scums like Henry. Saying that handling the ball with his hand
was unintentional is like calling all of us that watched the video "unintelligent" and "idiots".
Henry placed himself in the same league of unacceptable football personalities with Maradona.
They might be remembered for talent and promise, but they will also be remembered for the
"unfair play" that, allegedly, FIFA is trying to combat.
1. Why not repeating the game and, thus, sending a clear message that such behavior will
not be tolerated and, additionally, will put an entire team into unwanted adventure?
2. If not repeating the game, why not installing heavy penalties, such as banning the player
responsible for unfair play for several months from international competition? This will
cause scums, like Maradona and Henry, think twice before inflicting unfair damage to
opponents (since they will also be inflicting one on themselves and their careers as well).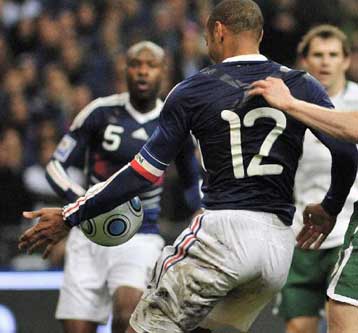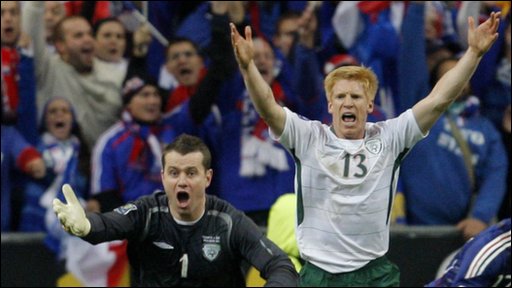 The German magician and his team have performed another miracle. He planned everything out
so that two results would have been convenient in Donbass Arena. And the kids delivered for him
the best of both.

Bravo

to the

team

, Bravo to

Tzorvas

, Bravo to

Samaras

, Bravo to

Salpingidis


and a BIG BRAVO and BIGGEST APPRECIATION for his

German Highness

, the man that
knows and understands the art and tactics of football like no other on the planet.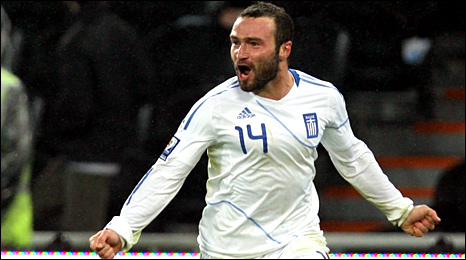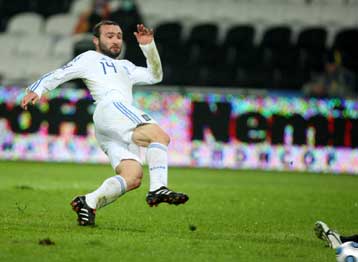 One last big effort in Donbass Arena at Donetsk. Ellada mporeis.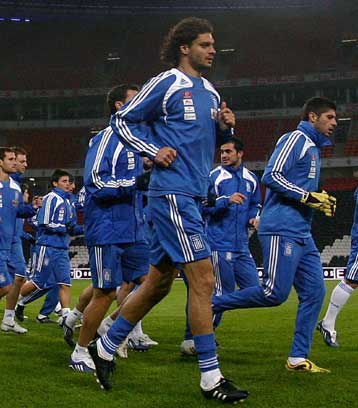 Tzekos thinks that the Greek public consists of idiots and ignorants. We do not need "alites" to
tell us that Greece is "eating its own kids". The worst faces of dirty sportsmanship would better
shut up and let honest people do the job, at the same time upholding strict olympic and ethical
standards. We prefer not to have champions and medals, rather than having "injections" into
our culture by all and any Tzekoses and, thus, be associated with the worst in world sports culture...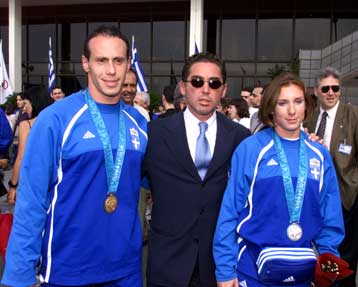 Ketsbaia, after his dismissal from Olympiakos, has gone crazy. He is a megalomaniac that
even dares to compare himself and his achievements with those of Rehhagel. But, unfortunately
(for him), the Greek public has this elementary ability to distinguish apples from oranges...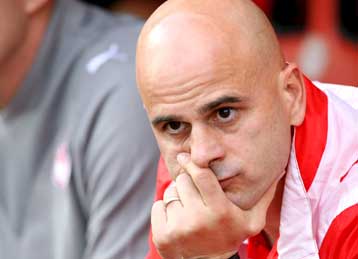 Regardless of whether Greece qualifies or not for the 2010 World Cup in South Africa and
regardless of the team's performance there, Otto Rehhagel should stay at the helm. On the
one hand, during his tenure as a coach of the national side, Greece has achieved, in general,
unprecedented quality in its game. On the other, his expertise, at all levels and in all styles
of football, is such that it would be a mindless decision to let him go; he can help usher in
a new generation of Greek footballers in a way that it would be very difficult for anyone else
with less experience and less successful history to do. It is simply a matter of quality and trust.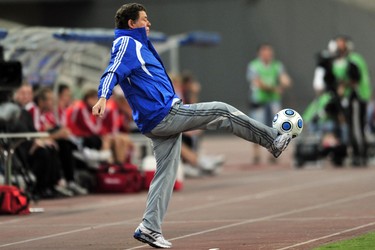 Italia in the Confederations Cup 2009




Panathinaikos beats CSKA to become the 2009 Euroleague Champion!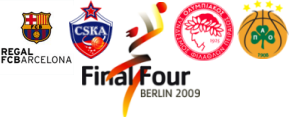 Brasilian footballers, especially, should be panished for playing unfair, dirty football.
When they go unpunished, they become arrogant and dirtier, while, at the same time
thinking that they are the best players in the world...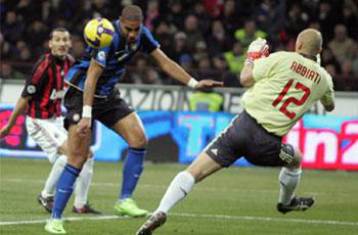 Kaka's description of the Premier League as the "best championship in the world"
is either a manifestation of "the grass being always greener on the other side" or,
simply, another indication of the Brasilian cluelessness about football...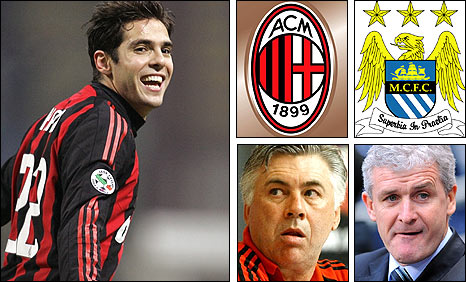 In the opening day the Cechs beat 1-0 the Swiss in Basel and the Portuguese
defeated 2-0 the Turks in Geneva. The Italians are playing the Dutch tomorrow
whereas the European Champions are starting on Tusday against Sweden...
Here is a special page for the ultimate mediterranean neighbors.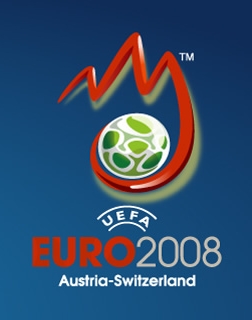 Euro 2008 will soon be under way. Stay tuned...


EURO 2008 DRAW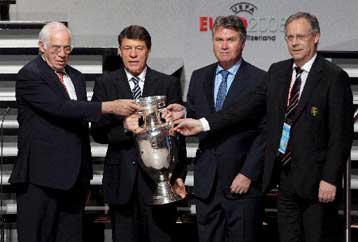 Otto Rehhagel must stay with Greece, lead the effort to qualify for
the 2010 World Cup and, then, try to make 2010 the first World Cup
in history in which Greece will collect at least 1 point in the group stage.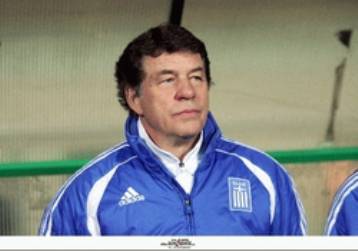 South Africa 2010 World Cup draw from Durban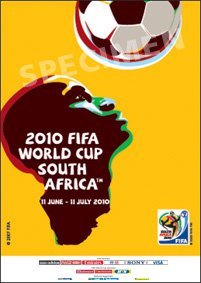 Otto Rehhagel is changing the Greek soccer culture, one interview
at a time...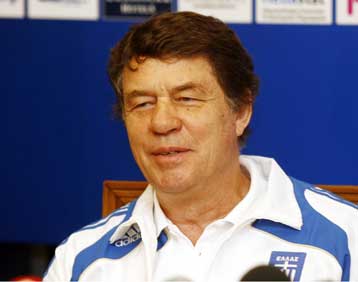 Greece is going to the Euro 2008 Finals. The European Champions
beat Bosnia tonight in the OACA-Spyro Louis Olympic Stadium
and, because of Turkey's tie against Moldova, have almost qualified
for the 2008 Finals.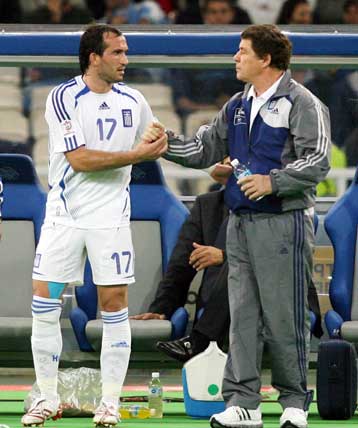 Europeans Rule Women's Soccer as well: Germany edged out Brazil in a
gripping match to become the first team to retain the Women's World Cup.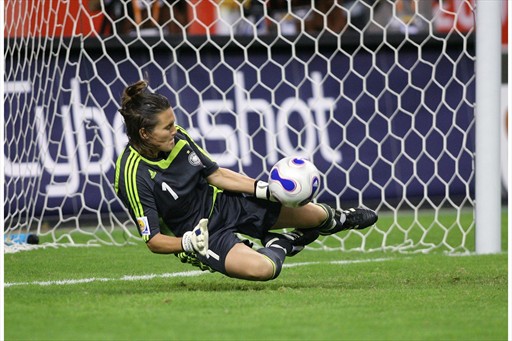 Check out Greece's march to the silver medal
in the Basketball FIBA World Championship
2006 in Japan.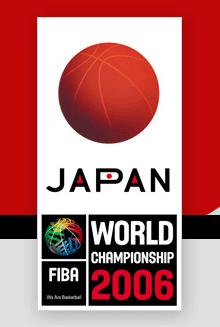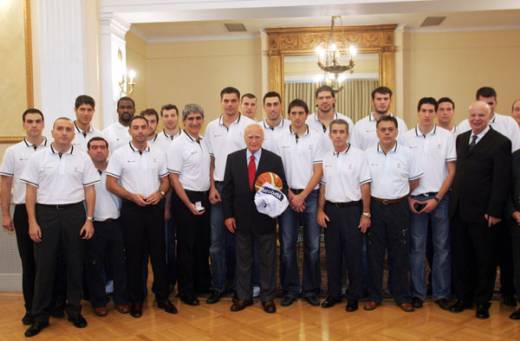 The 2006 World Cup draw has taken place.
Find out about the groups and the schedule
(BBC or FIFA).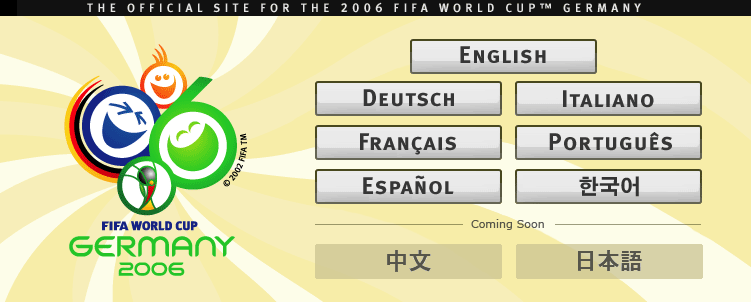 And as always a special page about the champions!
Forza ITALIA!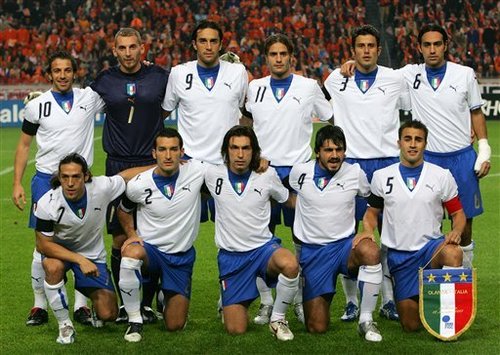 J

U

V

E

N

T

U

S

: CAMPIONI D'

I

T

A

L

I

A

2006